What Should I Do If I Fall at Home?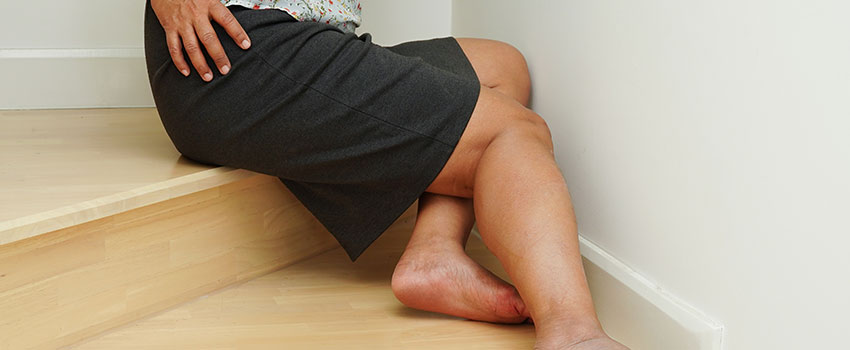 Home is our safe place to land at the end of the day. Whether we are busy running around for appointments, errands or visits with friends, we all hope that our homes are ready to welcome and take care of us. While most of us don't associate danger with our homes, getting older can pose certain risks around your house, especially if you live alone.
Falling is a common incident among the older population. In fact, one in three adults over the age of 65 will fall at home at least once each year.
Our AFC Urgent Care Fountain City team wants you to avoid being part of this statistic! Read on to learn more about in-home falls and what to do if it happens to you.
Why Do People Fall at Home?
Losing your sense of balance can happen more easily the older you get, so something as simple as turning around too quickly or slipping on a forgotten spill can cause you to hit the ground really hard. One way to support your balance is to exercise regularly. Strong muscles and bones can help you stay on your feet when you get knocked off balance.
Another reason for falls is tripping. It can be easy to have more things in our homes as we get older, but the more stuff you have, the greater the risk that you will leave something out and inevitably trip over it. Promptly put away shoes, books, boxes or anything else you would tend to leave out.
Extra Fall Prevention Tips
Have any broken or twisted exterior steps fixed quickly.
Keep your lawn tidy and roll up your hoses after every use.
Turn your porch light on before leaving in the evening.
Salt any ice buildup on the ground during the winter.
What Should I Do After a Fall?
Falls are never expected, so falling can take you by surprise if it does happen to you. Assess yourself before you make any moves to get back up. Serious head or neck injuries can be made worse with movement, so wiggle your fingers and toes, make sure you can see straight, and do a full body check for signs of injury or pain.
If you feel OK and can get up, move slowly and use whatever is around you to help pull you up. If you cannot get up on your own, call for help. Having your cell phone in your pocket is essential if you live alone, but sometimes not the reality. Bang on the floor or wall and make a lot of noise to get a neighbor's attention. These types of situations can be dangerous, so don't be afraid to be extremely loud.
Simple Changes for Your Home
Use handrails when walking down steps.

Install non-slip treads for your bathroom tub or shower.
Invest in a raised toilet seat or grab bars.
Secure rugs and carpets to the ground.
Did a recent fall leave you hurt? Come see us right away at AFC Urgent Care Fountain City.